When our Full Circle Farms CSA newsletter featured this recipe, I knew it would be a hit in our family. But I had no idea our 2-year-old would devour FIVE whole pancakes in one sitting. What's not to love about pumpkin, oatmeal, AND pancakes all in one?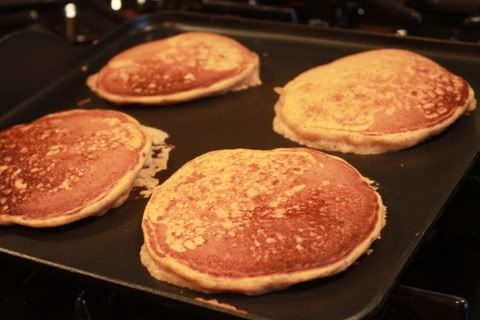 Ingredients:


1/2 cup rolled oats


1 cup yogurt


2 eggs


1 tbsp oil


1/2 cup pumpkin puree


1/3 cup milk


1/2 cup whole-wheat flour


1/3 cup all-purpose flour


2 tbsp wheat germ


3 tbsp ground flax seeds


1 tbsp sugar


1 tsp baking powder


1/2 tsp baking soda


1 tsp cinnamon


1/2 tsp nutmeg


1/4 tsp ground ginger


1) In a large bowl, combine oats and yogurt. Let mixture stand for 15 minutes to soften. Add the eggs, oil, pumpkin puree and milk, mixing well.
2) In a separate bowl, combine the flours, wheat germ, flax seeds, sugar, baking powder, baking soda, and spices, mixing to combine.
3) Stir the dry ingredients into the wet, mixing them until the batter is fairly smooth. Add more milk if the batter is too thick.
4) For each pancake, grease a hot griddle or pan with a small amount of butter and spoon about 1/3 cup of the batter onto the hot surface. Flip the pancakes when their undersides are golden brown and the tops begin to bubble.