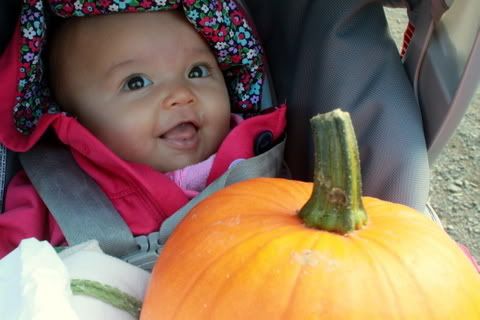 Fall is here, and with it comes my annual foray into all things pumpkin.  What is it about pumpkins that are so irresistible?  Is it their cheery orange color or their empty slate ready for the carving?  Do they bring to mind fall leaves, warm sweaters, and cozy fireplaces?  Or memories of hayrides and apple cider and traipsing through the patch in search of the perfect specimen?
Maybe all of the above, but mostly, I just think pumpkins are delicious.  And if not the pumpkins themselves, then the  sugar and cinnamon that comes with them.  My plan this glorious autumn season is to make as many pumpkin-flavored goods as possible, either until my family revolts or Costco stops carrying the seasonal canned pumpkin mega-pack.  It's anyone's guess which one will happen first.
Today's offering is a classic: good old pumpkin spice bread.  But who am I kidding?  It's so sweet and delicious, it's really pumpkin cake, and that's what we call it when we serve it to the toddler as a special dessert (poor, sheltered toddler).  I did make a few changes from the
original recipe
to make us grownups feel better about eating cake for breakfast.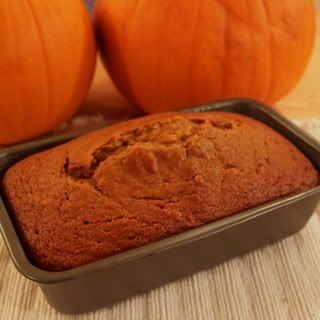 Ingredients


1 1/2 cups granulated sugar


1 cup brown sugar


1/2 cup vegetable oil


1/2 cup applesauce


4 eggs, lightly beaten


1 (16 ounce) can solid pack pumpkin


3 1/2 cups all-purpose flour


1 teaspoon baking soda


1 teaspoon salt


1 teaspoon ground cinnamon


1 teaspoon ground nutmeg


1/2 teaspoon baking powder


1/2 teaspoon ground cloves


1/2 teaspoon ground allspice


1/2 cup water


In a large bowl, combine sugars, oil, applesauce, and eggs.
Add pumpkin and mix well.
Combine dry ingredients.
Add to pumpkin mixture alternately with water
Pour into two greased 9x5 inch loaf pans.
Bake at 350 degrees for 55-60 minutes or until done.
Cool in pans for 10 minutes before removing to wire racks.