On the rare occasions when Jeff and I get to go out for dessert, I always request going to the Ram.  Why?  Their to-die-for bread pudding.  In fact, I am nearly drooling just imaging the ooey gooey caramel sauce dripping over the toasty bread.  I couldn't imagine anything tastier.  That is, until I imagined PUMPKIN bread pudding.  After trying a couple recipes, I brought
this
delicious mass of bready goodness to my family's Thanksgiving dinner.  I made it again for my MOPS group Advent celebration brunch using less sugar and 2% milk instead of half and half, but I called it Pumpkin French Toast Casserole so nobody had to feel bad about eating dessert at 9:30AM (shhh! don't tell).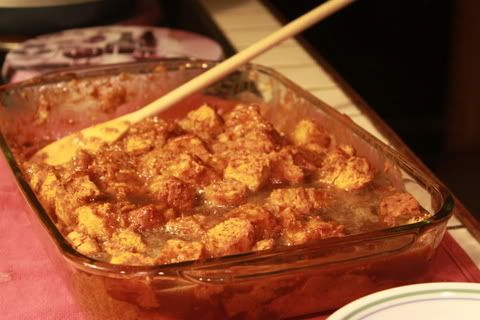 Bread pudding


2 cups half and half


1 15-ounce can pure pumpkin


1 cup (packed) plus 2 tablespoons dark brown sugar


2 large eggs


1 1/2 teaspoons pumpkin pie spice


1 1/2 teaspoons ground cinnamon


1 1/2 teaspoons vanilla extract


10 cups 1/2-inch cubes egg bread, about 10-ounces (I used a day-old loaf of French bread from the breadmaker)


1/2 cup golden raisins


Caramel sauce


1 1/4 cups (packed) dark brown sugar


1/2 cup (1 stick) unsalted butter


1/2 cup whipping cream




For bread pudding:
Preheat oven to 350°F. Whisk half and half, pumpkin, dark brown sugar, eggs, pumpkin pie spice, cinnamon and vanilla extract in large bowl to blend. Fold in bread cubes. Stir in golden raisins. Transfer mixture to 11x7-inch glass baking dish. Let stand 15 minutes. Bake pumpkin bread pudding until tester inserted into center comes out clean, about 40 minutes.

Meanwhile, prepare caramel sauce:
Whisk brown sugar and butter in heavy medium saucepan over medium heat until butter melts. Whisk in cream and stir until sugar dissolves and sauce is smooth, about 3 minutes.

Sift powdered sugar over bread pudding. Serve warm with caramel sauce.