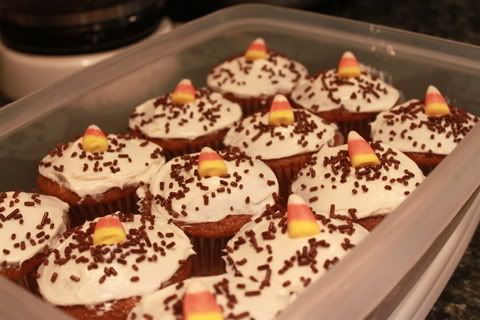 Call me a spoilsport, but I've never been a fan of cupcakes.  I am neither a huge cake or frosting  person, and even if I were, the frosting to cake ratio of a cupcake seems highly skewed.  However, I was called upon to rise to the occasion when my boss invited the fam to a Halloween party and cupcake exchange.  Much to my surprise, these cupcakes were delicious!  The recipe made two dozen, so we had plenty for the party and enough to bring to our neighbors as well.  Confession: I was short on time AND powdered sugar, so I used a can of cream cheese frosting instead of the frosting recipe below.
IngredientsCupcakes:


4 eggs, slightly beaten


3/4 cup vegetable oil


2 cups sugar


1 (15 ounce) can pumpkin


1 3/4 cups all-purpose flour


1/4 cup cornstarch


4 teaspoons pumpkin pie spice


2 teaspoons baking powder


1 teaspoon baking soda


3/4 teaspoon salt


Frosting:


1 (8 ounce) package cream cheese, softened


3 tablespoons butter OR margarine, softened


1 tablespoon orange juice


2 teaspoons vanilla extract


1 1/2 teaspoons freshly grated orange peel


4 cups powdered sugar


Instructions:


To make cupcakes:  Preheat oven to 350 degrees.  Blend the eggs, oil, sugar, and pumpkin in a large mixing bowl; set aside. Stir together dry ingredients in a separate bowl. Add dry ingredients to pumpkin mixture and beat until well blended. POUR into lined muffin tins. Fill about 2/3 full. Bake for 25-30 minutes or until center springs back when touched. Cool 30 minutes. Spread with frosting.


To make frosting: Beat cream cheese and butter until fluffy. Add remaining ingredients and beat until smooth. Spread over cooled cupcakes.