Our milk frother, for making lattes/cappuccinos/etc., gave up after years of use. A replacement usually runs $20. That didn't seem right to pay that much for what is essentially a battery holder, switch, and electric motor. So I created the mouse frother using a wireless mouse from the Goodwill for $2.99. Click the mouse button for frothy goodness!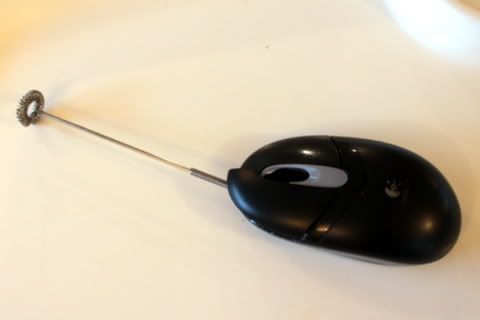 Ingredients:


old wireless mouse, $2.99 from Goodwill


frothing wand, salvaged from defunct frother


electric motor, in parts bin (from Arduino starter kit)


two AA batteries


My first step was trying to salvage the old frother. I used a Dremel cutting wheel to open up the stainless steel casing, only to discover a dead electric motor within. At least the shaft of the frothing wand pulled off easily from the motor, and happened to fit exactly onto a spare motor I had from an Arduino starter kit.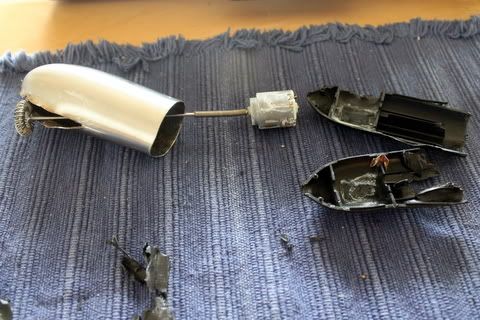 With the shaft from the old frother, plus the electric motor, the Logitech wireless mouse had everything needed for a frother: a hand-holdable casing, battery holder, and push button switch. My $2.99 mouse even came with a bonus rechargeable battery.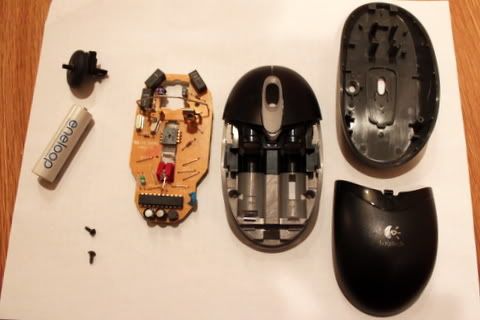 I removed the left mouse button switch and mouse wheel to make room for the new motor. The actual button cover that your finger presses will flex upward to make room for the new motor. The fun part was removing various components from the mouse PCB. Capacitors, resistors, optical encoder, "laser", and the like. With the left mouse button removed, a right-click will activate the frother. The idea here is to disconnect all components from the switch while leaving the switch intact. A multimeter testing resistance to ground will tell you when you've electrically detached enough, should have infinite resistance with the push button open or closed. Then you can solder the motor wires so the right-click delivers positive voltage.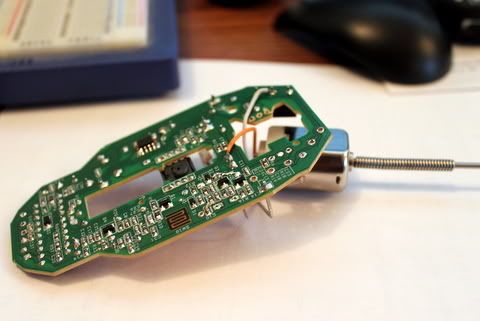 One side benefit of the mouse frother is that the batteries seem to last much longer powering this new motor. Another nice mod would be making it rechargeable with a charging stand.