I wrote this post several months ago, but I forgot to post it with all of the craziness of buying and selling a house plus travel and work. Then all of a sudden it was summer and fuzzy winter hats and mittens were replaced by sunhats and sunscreen! Alas, it was hard to let go, but we are full-on into cold weather again. Once I made it through the denial stage, I realized that I truly do love fall, with its autumn leaves, hot drinks, hearty soups, and of course, warm fuzzy clothes: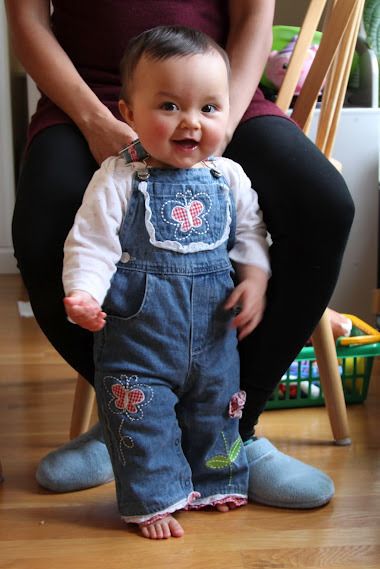 At 9 months of age, baby Tess (above) almost had as much hair as Anna had at birth (below). Almost.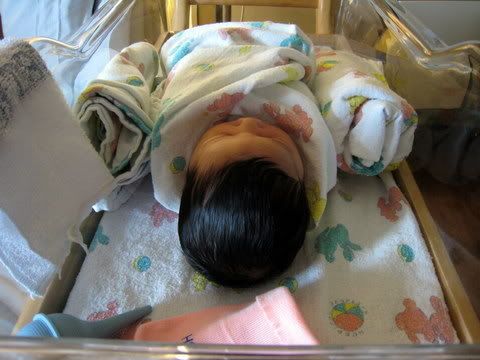 But it's not quite enough to keep that little noggin warm in these cold, breezy days. So with the leftover yarn from
Anna's hat
, I whipped together a little matching beanie for Tess. I used a spiral pattern rather than crocheting in rounds and joining with a slip stitch, since I wanted to avoid the subtle "seam" that comes with crocheting in rounds. I modified
this
pattern to make a hat that had some room for Tess to grow. The spiral pattern gets a little funky where I start and end the border, but a well-placed
flower
motif hides that bit.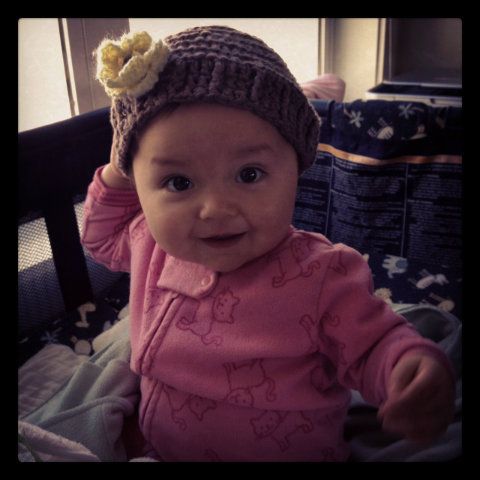 I couldn't get a good shot of the hat before Tess would pull it off, so I borrowed Anna's bear for a close-up. Hold still, Baby Grandma Bear: